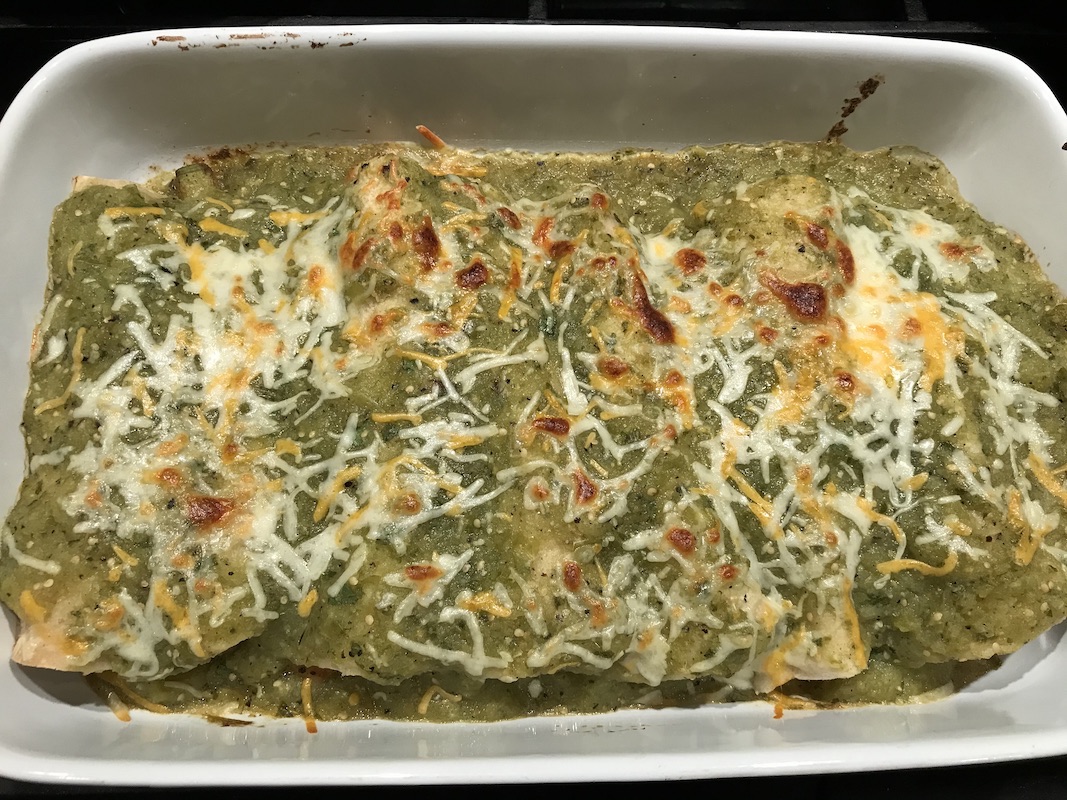 Enchiladas are a delightful comfort food that can be enjoyed with various fillings and salsas. Cutting into them and watching the cheese ooze out onto the plate waiting for you to scoop it up. This recipe takes that idea and flips it into an entire casserole of gooey cheese, crispy tortilla, and flavorful mix-ins. Assembling this is just as glorious as eating it. You will want to make this again and again. This recipe is vegetarian but you could easily mix in various meats, but you may want to pre-cook the meat to a degree to ensure proper temperatures. You can make this to serve any amount of people, though we will start with a baseline of 1-2 people. Alright, lets cut the chit chat and get started on assembling the best casserole ever!
What to Gather:
1 large zucchini
2 bunches of spinach
1 red onion
4 garlic cloves
2-3 cups of Red or Green Salsa at room temperature. (You can make this yourself or use any store-bought salsa.)
1 handful of cilantro
About 6 small corn tortillas. Adjust based on the size of your tortillas.
1 1/2 cups of Colby Jack or Mexican shredded cheese.
1/2 cup of Manchego Cheese for topping
2 Tbsp Olive oil for sautéing
Spices:
1-2 teaspoons of Paprika
1/2-1 teaspoon chile powder (Adjust based on spice tolerance)
1 teaspoon of Cumin
Salt and pepper to taste
Tool Belt:
Kitchen scraper
A lid of sorts to cover the pan with
1 9" x 5" baking dish
1 non-stick or stainless steel fry pan
1 spatula
1 medium mixing bowl
1 sharp knife
1 ladle for spooning the salsa
1 medium to large cutting board
2 toothpicks
Foil
If you are more comfortable with preparations then check out the Quick Guide. Otherwise, if you would like to read more of a blog style guide, check out the Detailed Guide.
As always before we start cooking we need to wash our vegetables. Give each item a rinse under cold water, removing any stickers and set aside. I like to place the washed veggies in another bowl or on a towel.
When discarding vegetable scraps, it is always recommended that you compost them.
Quick Guide:
Pre-heat your oven to 375F.
Pre-measure the spices into a bowl for easy adding.
Zucchini Spinach Mix
If you prefer to peel your zucchini do so but try not to peel all of the skin off.
Slice the zucchini lengthwise, then into half circles, set aside.
Peel and dice red onion, set aside.
Peel, smash and mince garlic, set aside.
Cut the stems off the spinach, slice leaves in half and set aside.
Place fry pan on stove and heat over medium heat.
Do the water test to make sure it is heated. (Sprinkle a bit of water on the pan, if it sizzles and evaporates then you are ready)
Pour out about 2 tablespoons of olive oil into the pan and let it heat up for a minute.
Add the diced onions and sprinkle a bit of salt.
Cook onions until they are translucent, about 2-3 minutes.
Add zucchini and garlic.
Add the spices.
Cook and mix until there is some color on the zucchini, about 4-5minutes, stirring occasionally.
Add the spinach to the pan, you may have to do this in groups to prevent spinach overflow.
Add about 2 tablespoons of water to the pan, mix, and cover to steam for about 1-2 minutes. Check occasionally to prevent burning.
Once done, remove from heat and add to a medium bowl to rest.
Time to build the casserole.
Get your baking dish out and grab some butter or cooking spray and grease the pan to prevent sticking.
Scoop some salsa onto the bottom of the dish, don't make a pool but sauce the bottom.
Add the tortillas to make a layer.
Add some of the zucchini spinach mix.
Add some of the salsa.
Add some of the shredded cheese.
Repeat adding tortillas, mix, salsa and cheese till you are a little below the top.
Leave some room at the top, don't make it spill over or right to the top of the dish.
Dust the Manchego Cheese on the top.
Put the toothpicks partially in on each side and cover with foil. The toothpicks prevent the foil from sticking to the cheese
Put it in the oven for about 35 minutes.
Remove from oven and change the oven to Broil.
Remove the foil and stick back in for a couple of minutes, to crisp everything up on top. Check frequently to prevent burning,
Let rest for a couple of minutes so everything can come together.
While resting, chop up the cilantro for topping.
Slice and serve immediately with your choice of sides like my Instant Pot Pinto Beans or Chips and Chunky Pico De Gallo.
Detailed Guide:
First and foremost, crank up that oven to 375F so that baby is hot and ready when it comes time to bake. Make sure the rack is in the middle of the oven so you have optimal heat flowing around your baking dish.
Get a prep bowl out and pre-measure out the spices. This is good to do for a while as it helps you visually understand how spices look when measured. Over time you will be able to just eye everything and adjust based on taste. Once measured, stir up and set aside.
Grab your zucchinis, either leave the skin on or peel some of the skin off of each zucchini, but not all of it. This is a personal preference and fondness of veggie skin.
Slice the zucchini in half lengthwise, then slice each half into half circles. This part is not rocket science, so don't worry about having them all the same size. You want to cut them to a medium thickness which allows the zucchini to retain their shape while cooking but still thin enough to not bulk up the dish. Set aside.
Take your onion, peel it, slice it in half, cut off the ends and discard. Take each half and dice into pieces. Set aside.
Next slice the rough ends off each garlic clove and discard. Then using your kitchen scraper or knife, smash the clove. This makes it easier to peel off the skin and discard it. Do this for each clove, then dice the cloves into pieces. Set aside.
Finally, gather up your spinach and slice the stems off, discard and then slice the leaves in half. This helps break up the spinach to prevent large leaves and gives a more even bite. Set aside.
Get your fry pan on the stove and heat over medium heat. After a couple of minutes do the water splash test after a few moments to see if the pan is hot. Remember it should sizzle and not immediately evaporate.
Add the olive oil to the pan and allow it to heat up for a moment then add the onions and a sprinkle of salt. The salt helps draw out the moisture. Sauté them for about 4-5 minutes until they start to get translucent. Then add the zucchini, a little more salt and mix everything up. Allow the zucchini to cook with the onions for a few minutes.
Add the garlic, the spices and mix everything up to distribute the spices. Yum! Take a moment to enjoy the smells filling your kitchen.
If the pan looks a little dry, add a teaspoon or two of water to de-glaze the bottom of the pan and prevent sticking.
Add the spinach to the pan, you may have to do this in bunches to prevent spinach overload. Gently mix up the spinach with the rest of the items until all the spinach is in the pan. Reduce the heat slightly and add 2 tablespoons of water, cover the pan and let steam for about 1-2 minutes, checking frequently to prevent burning.
Remove from heat and toss into the mixing bowl, set aside and let it cool for a few minutes. Take this time to grease up your baking dish. I like to use butter as it provides added flavors but you can also use cooking spray.
Now comes the fun part, we get to layer all of our delicious items together. Depending on the size of your tortillas, you may need to cut or tear them in half. Don't worry about it being exact, just have fun with it.
Spoon a bit of salsa onto the bottom of the dish to create a base layer. Don't pool it, just get the bottom sauced. Next, add two tortilla pieces, then scoop out some of the spinach zucchini mix. Then add some more salsa, then add some of the cheese.
Repeat this until you have a couple of layers and some space at the top. You don't want this to spill out over the top. This allows your dish to expand while cooking and provide space for the steam to rise and not bubble over. Dust the top with Manchego Cheese.
Take the two toothpicks and partially insert them, these will act as support beams to prevent your foil from sticking to your cheese. Cover with foil and bunch up any extra foil along the sides to create a loose seal.
Place the dish in the preheated oven for about 35 minutes. Once done, remove the dish from the oven and turn your oven to Broil. Remove the foil, add more cheese if desired and broil for a few minutes. You want some crispy parts but you don't want to burn the top.
Remove from the oven and let the dish rest for 2-3 minutes. This allows the casserole to come together. Use this time to chop up the cilantro and any other toppings you desire.
Slice and serve immediately with your choice of sides like my Instant Pot Pinto Beans or Chips and Chunky Pico De Gallo.
That's all for now, and remember that Dad Bods Cook!