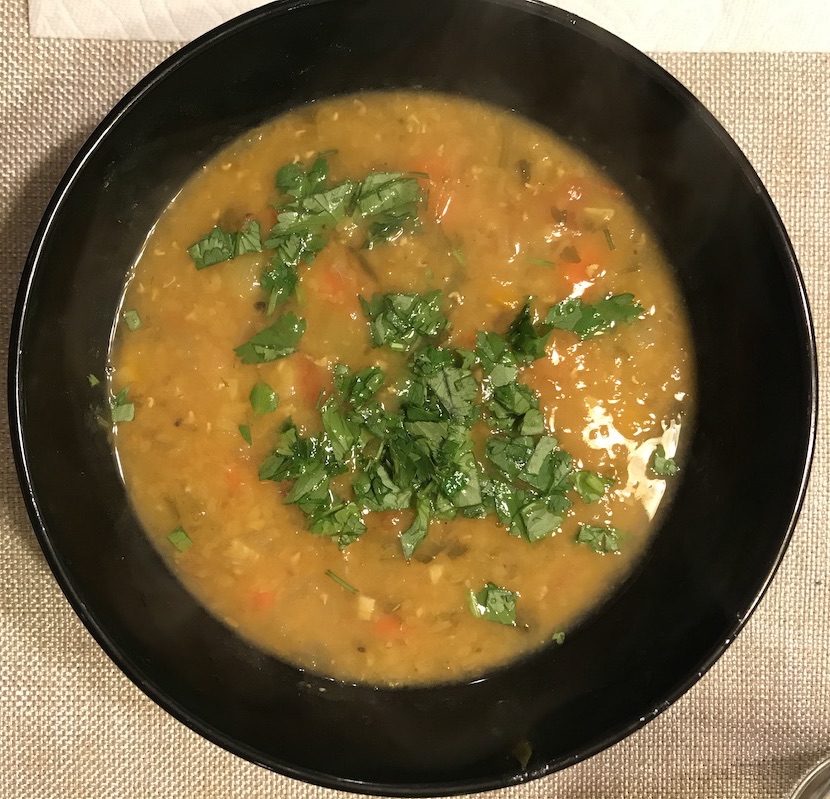 This soup is pretty easy to make and is packed with flavor, not to mention it is rich with protein and nutrients. Don't be overwhelmed by the ingredient list or steps, you just chop it up, sauté and cook it. If you are a vegetarian or looking to cut back on meat or just looking to explore Indian cooking, then this recipe is for you! The trick to this soup is to be generous with the broth and use Better than Bouillon instead of buying boxes of stock. With this soup, you will be able to serve 2 - 3 and have enough for leftovers.
What to Gather:
1 cup of red lentils
Half of a red onion, diced
3-4 green onions or scallions, chopped
1 Orange or yellow bell pepper, chopped
2 tomatoes, cut into medium chunks
4 cloves of garlic, smashed and diced
1 handful of cilantro
1 carrot peeled and diced
6 cups of vegetable broth: Better than Bouillon or 1.5 boxes of vegetable stock
2 tablespoons olive oil
Spices:
1 tablespoon of paprika
2 teaspoons of cumin
1 teaspoon of turmeric
1/4 teaspoon salt
2-3 teaspoons of cracked pepper
2 bay leaves
Tool Belt:
6 QT InstantPot
Sharp Knife
Cutting board
Peeler
Colander/Strainer
If you are more comfortable with preparations then check out the Quick Guide. Otherwise, if you would like to read more of a blog style guide, check out the Detailed Guide.
Quick Guide:
If using Better than Bouillon:
Boil 7 cups of water.
While water is boiling switch to chopping vegetables.
Roughly measure out one heaping spoonful of bullion into a large mixing bowl.
Combine boiled water and bullion, mix, set aside.
If using boxed stock:
Measure out 6 cups of stock, set aside.
Spice Prep:
Combine spices, except bay leaves into a small bowl, set aside.
Vegetable Prep:
Peel carrot and dice, set aside.
Slice bell pepper and set aside with the carrot.
Peel the onion and roughly dice into small chunks.
Chop cilantro, set aside.
Smash and dice up garlic, set aside.
Rinse Lentils.
Combination:
Finish stock preparation.
Turn InstantPot on and select the sauté button, adjust to the medium sauté setting.
Let InstantPot preheat for a minute, then add the olive oil.
Let oil preheat for 30 seconds.
Add diced onion and sprinkle 1/4 teaspoon salt over onion.
Sauté onions till they're sweaty, about 3-4 minutes, stirring occasionally.
Add chopped cilantro and garlic, stir for 30seconds to combine.
Add chopped bell pepper and carrot, stir occasionally for 1- 2 minutes.
Add lentils and spice bowl, stir to coat with spices for 30 seconds.
Pour broth over everything, stir to combine.
Add black pepper and taste.
Adjust to taste.
Add bay leaves, gently stir.
Turn InstantPot off and seal the lid.
Select Manual and set the timer to 10 minutes.
Allow InstantPot to naturally release for at least 20 minutes.
Release any leftover pressure and crack the lid.
Toppings:
Chop up some cilantro and slice some lemon wedges.
Sprinkle cilantro and squeeze lemon over-served soup.
Enjoy!
Detailed Guide:
There are a couple of steps to this soup but as usual, the InstantPot makes it so easy. I like to get the spices and stock handled first, as those are nice to have prepared ahead of time.
First, let's measure out our spices into a bowl. Keep the bay leaves separate as you will add them after adding the stock.
If you are using boxed stock, measure out 6 cups (about a box and a half) and set aside. Otherwise, if you are using Better than Bouillon paste, measure about 1.5 Liters (6 cups) of water and bring it to a boil. I use my handy Muller Water Kettle, but you can use any water boiling method. Using your 1 tablespoon, scoop a generous amount of paste out and add it to a medium-large mixing bowl. Once the water is boiling, pour the water out into the bowl and mix to combine. If the taste is too strong, add a little more water and if it is too light, add a little more paste. In time, you will be able to eyeball this with more precision.
Before we start chopping anything make sure to thoroughly wash your vegetables under cold water to remove any dirt. Place washed vegetables on a towel or in the colander and let the extra water drain.
Set yourself up on the counter with your cutting board and knife, it helps to have a few different prep bowls to place chopped ingredients in. That way you don't crowd your cutting board and risk injury.
You can chop up your veggies in any order but for this soup, I like to start with the drier veg and end with wetter veg.
Get your carrot, peeler and peel the carrot, then give it a quick rinse. Slice off the top of the carrot, you can slice a bit of the tip-off but not always required. Split the carrot down the middle and then split each half again to give you four quarters of carrot. Dice each quarter into bite-sized pieces, scoop into a prep bowl and set aside.
The trick to cutting up a bell pepper and not getting a ton of seeds is you stand the bell pepper up and slice the slides off. Then slice each side into roughly 1-inch pieces, no need to be super precise, just average between small and medium. Scoop into the same prep bowl as the carrot and set aside.
Take your onion and slice it in half, slice off the ends of the halved onion and peel off the skin. Slice and dice the onion into small pieces, the chop can be rough since they will mostly melt in the soup. Scoop into a bowl and set aside. Grab your green onions, chop them up, put into the same bowl as the onion.
Peel and smash your garlic cloves, you can use your knife for the smashing part, just remember to be gentle with the knife. Dice up, scoop into a prep bowl, set aside.
Turn your InstantPot, select Sauté and use the adjust button to set to Medium and wait a few (1-2) minutes for it to warm up. You can test the heat level by sprinkling some water onto the inner pot, if it sizzles then you are ready. Pour the 2 tablespoons of olive oil in and wait for 30 seconds to heat up.
Pour your onion prep bowl into the pot and sprinkle 1/4 teaspoon of salt over the onions to allow them to sweat. Grab your cilantro, chop off the ends and give it a rough dice. Add the cilantro, garlic and stir occasionally for 3-4 minutes.
Add the bell pepper and carrot to the pot and stir to everything up. Take your bow of spices and sprinkle the spices over the vegetables, stir to combine. Next, add the red lentils and gently stir to combine. Pour the prepared stock over everything, add the bay leaves and gentler stir it up. Your soup should be at about the halfway mark or slightly over.
Taste the stock and adjust the salt, pepper to taste. Remember, everything will blend under pressure and the spices will activate. You can always add more upon serving, but you can't take it away.
Turn the InstantPot off and close the lid and make sure the valve is set to seal. Select Manual and adjust the time to 10 minutes. Sit back and relax while your soup transforms. Once the timer has ended, wait at least 20 minutes using the natural release to release the leftover pressure. The longer the soup sits in the pot under pressure, the better it will get. Good soup can't be rushed.
To serve, chop up some extra cilantro and slice some lemon wedges. Sprinkle cilantro over the top and squeeze in some lemon. Serve hot and enjoy immediately.
This soup is great to make because it packs so much flavor that you will want to make it over and over. It is so easy to tweak flavors and experiment with vegetable combinations.
That's all for now, and remember that Dad Bods Cook!