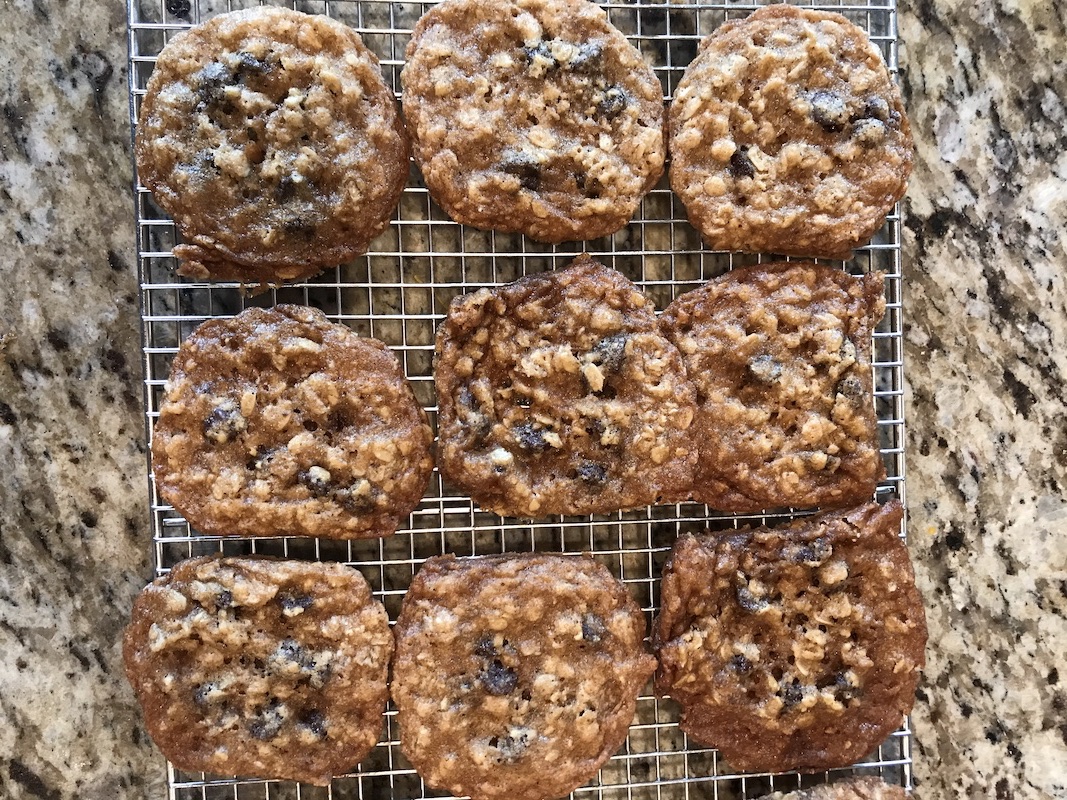 Fresh baked cookies should be a staple in any household and everyone should have a go to recipe. This recipe is so easy and delicious that you will want to find any excuse to make them. Generally, when one thinks about oatmeal cookies, they picture them with raisins. While raisins aren't a bad thing, they really shouldn't be used in cookies. With these cookies, you get the gooey-ness of a chocolate chip cookie, with the chewy-ness of the oatmeal. These cookies are the bomb, everyone will be demanding the recipe and you will truly enjoy making them. Now, let's get baked!
What to Gather:
1 and 1/2 cups (190g) all-purpose flour.
1 teaspoon ground cinnamon
1 teaspoon baking soda
1 teaspoon salt
1 cup (2 sticks; 230g) unsalted butter, softened to room temperature
1 cup (200g) packed brown sugar
1/2 cup (100g) granulated sugar
2 eggs, at room temperature
2 teaspoons pure vanilla extract
3 cups (240g) old-fashioned whole rolled oats
1 and 3/4 cups semi-sweet chocolate chips
Tool Belt:
Stand Mixer or Hand Mixer
Flour Sifter
Measuring cups
Measuring spoons
Kitchen Scale
Wooden or Silicone spoon for bowl scraping/tasting
1-2 cookie sheets
Wax Paper or silicone baking pad
Wire Cooling rack
Generally, I break up my recipes into a Quick Guide and Detailed Guide, but this time we're just going with the Guide. There are no real tricks to this recipe.
When it comes to baking you should absolutely get a sifter and a kitchen measuring scale. It is way easier to measure in grams than to switch around. This recipe includes both measurements for simplicity.
I recommend to sift your dry ingredients as it de-clumps your flour and combines everything. If you don't have a sifter, then make sure to whisk them together in the bowl beforehand.
Guide:
I like to measure everything out before I start, especially the packed brown sugar. It's just nice to not have to take long pauses, but nothing wrong with doing it as you go.
Preheat your oven to 350°F (177°C) or 355°F (180°C) if you like them a little crispy.
In a medium bowl, either sift or whisk together: The flour, cinnamon, baking soda, and salt. Set aside.
If you are using a hand mixer get out a large bowl. If you are using a stand mixer then make sure to use the paddle attachment.
Add the butter to the bowl and beat on medium-high speed until smooth (roughly 1 minute). After the butter is smooth, it helps to scrape the sides of the bowl down.
Add the packed brown sugar and sugar. Beat on medium-high speed until creamed (roughly 3-4 minutes). Be sure to scrape the bowl down and mix further if needed.
Add the eggs one at a time and beat on medium-low speed to combine (10-20 seconds), repeat for the other egg.
Scrape the bowl down.
Add the vanilla and beat on high speed until combined (roughly 1 minute)
Scrape down the sides and up the bottom of the bowl and beat again as needed to combine.
Add half of the dry ingredients to the wet ingredients.
Mix on low speed until combined, then scrape the bowl down, repeat for the other half of the dry ingredients.
At this point, you are finished with your mixer. Take out the paddle or detach the hand mixer attachments. Scrape out some, not all of that dough back into the bowl.
Take a break and enjoy that delicious cookie dough, yea get in there and lick it right off the attachment(s), just not the wooden or silicone spoon, you're gonna need that shortly. After you have finished licking, soak those in super hot soapy water to get rid of all those germs.
Add in the oats and chocolate chips.
Use your spoon, to mix it all up, don't worry about overworking it, you really can't.
Prepare 1 or 2 cookie sheets with either your silicone baking pad or a nice sheet of wax paper. Foil also works but I don't like to use it. If you are using Wax Paper or Foil, give it a quick spray of cooking spray to prevent sticking.
Time to throw down some dough. There are no exact measurements here, just enjoy it. If you have a cookie scoop measuring spoon, feel free to use it but I like to use a regular spoon and my hands to shape the dough balls.
Remove any jewelry and dust your hands with some flower. Scoop out a medium amount of dough (roughly 2 tablespoons) and roll it between your hands to create a nice ball. Place the dough ball on the cookie sheet and repeat until your sheet has 12 balls.
Word of the wise here, the cookies will spread out during cooking, some may meet and others will stay apart. Make sure to give them enough room which is why I only do 3 dough balls across. Any more and they get crowded.
Bake for 14 minutes, the dough balls will have flattened out and the centers will look somewhat soft.
This one is a must, if you stray from other guidelines above, make sure you at least respect this one. Allow the cookies to cool on the cookie sheet for at least 5 minutes. Then use a spatula to move them to a cooling rack.
Rinse and repeat for the rest of the cookie dough.
You can also cover the bowl with plastic wrap and store in the fridge for a few days. Make sure to take the bowl out for at least 30 minutes to warm up to room temperature.
Store cookies in your favorite cookie jar or simply use a gallon freezer bag. These bad boys will stay fresh for about a week.
These are great on their own or with milk. They also make great bases for ice cream sandwiches or just crumbled over a bowl of ice cream. However, you eat them, make sure to enjoy it.
That's all for now, and remember that Dad Bods Cook!